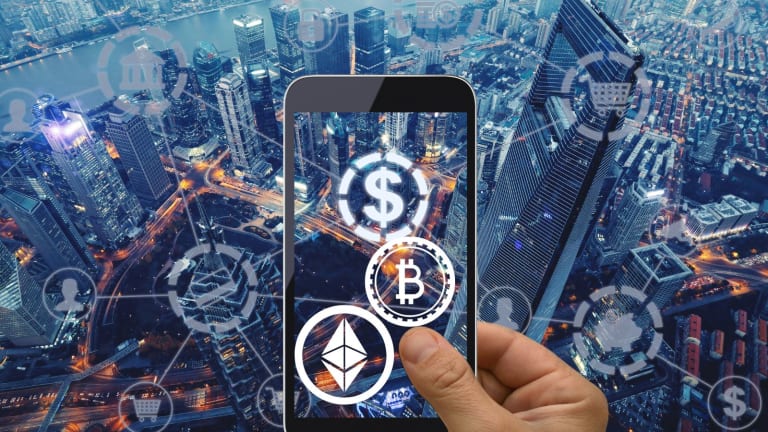 Tapping into the future of Fintech with David Carr of TAP Global
TAP is a well-matched brand name for anyone tuned into the modern world of finance. As more people across the globe spend time tapping away their earnings via mobile technology, this new method of payment is giving rise to a surgency in mobile applications. 
Tap Global is early to recognize this trend and is offering the eagerly tapping public an easy way to access the crypto markets with Tap accounts. TAP Global Co-founder David Carr sat down with Blockleaders at Crypto Gibraltar to give us some insights into the past, present and future of his fintech services. 
The platform reached 100,000 registered customers in the last month. It offers an innovative, easy-to-use crypto app that helps bridge the gap between traditional finance and blockchain technology. Carr started out in banking twenty years ago. Since then he has steered his experience and knowledge into the world of Fintech. Like most successful enterprises it started out by solving a problem.
"I was approached by my co-founder, Arsen Torosian, he's a crypto guy, he used to be a Bitcoin broker. He was having all sorts of problems in the UK, because Bitcoin brokers were being targeted by the banks as potential money launderers, even though they will do nothing illegal. Soon as he got a deposit from an exchange, which is how Bitcoin traders work, they will close his bank account."
"His concept was he wanted to make a smooth way for people in the crypto space to monetize the asset for real-time spending, because you just couldn't spend Bitcoin. Unless you're buying a 400,000 pound Lamborghini, you're not going to be spending Bitcoin. So he was struggling to do that."
TAP is growing every month. 
"We've added a number of coins over the time we started off with Bitcoin Aetherium Litecoin we've now got 16 tokens, including USDC and USDT, and a number of the smaller tokens such as Dogecoin. We list tokens based on popularity, but also on the market trading activity. So if people want to trade it, we'll list it, if it's not being traded, then there's not much point in listing."
For Carr, the difference in the TAP product makes it exciting as he had done almost every FX card to date, including 15 of the top 20 in the UK. 
"I started in the prepaid space with MasterCard in the UK. And I launched the first prepaid MasterCard. That was called cash plus. And over the years, I've done 67 cards for different organisations."
 Armed with this vast experience he provides a product edge for TAP as he comes with a wealth of experience with finance giants like Mastercard. Using this relationship Carr has had the first crypto card approved and launched with the global brand. 
"We offer virtual cards, and physical cards, depending on what the user needs. And they can convert their Bitcoin and spend in real-time."
"We solved that by issuing every customer with a dedicated personal account. In theory, so they have a Euro account if they're in Europe. You're sending it from yourself to yourself, they're not sending it to you. And when you're sending it back when you monetize that asset and you want to get get the money back, that's coming from you back to them."
Accelerating adoption with smaller commitments 
"What we're giving people is the opportunity to get into the market without committing huge amounts. So when you can do a 10-pound transaction 10 Euro transaction, if that's what you want to do, we don't have any real restriction, obviously, it needs to be viable for you. But we don't mind you doing small transactions," says Carr.
Carr explains that TAP's core customers are newcomers and early adopters that are now high-net-worth individuals. TAP offers three different tiers of accounts: a standard account for newcomers where they encourage people to have a look around the platform, and a second tier for those a little more experienced. In these accounts users can stake a couple of 100 pounds worth of tokens for a cheap deal. The third tier is high-net-worth individuals. When describing the staking feature of TAP, Carr explains that 
"...the staking element is not about me making money, it's about keeping the customer happy with us. For putting a couple of the good away, I get a better deal, they're going to come to me, I'm not going to go to one of my competitors, they're going to come back to me to do trading. And that's where we make our money when you make our money on trading. If there's no trading, we make nothing."
"We may implement a physical card fee at some point, just to really cover our postage. I'm planning on posting to 45 countries around the world."
Using banking services to expand the adoption of crypto
TAP is headquartered in Gibraltar with its core team based there but operates a global business. Their technology team is based in India and they also have another hub in Athens. They are currently expanding with an Australian office in the pipeline and an interest in having a physical presence in the US. Talking about expansion Carr is excited about the opportunities the tech provides,
"I can expand with five or six people to launch a new country. Because the tech doesn't change I can do with five or six people and almost have a follow the sun customer services because Gibraltar is always on. Athens is always on, and Australia will be in different time zones. So the team will be able to talk to any customers 24/7 We can't do that today."
The banking product features offered via TAP are a key differentiation in their business model. 
"The banking product is key to our adoption without banking, we're just another trading platform. And we know we're no different than anybody else. So I need to be able to provide a local bank account in Singapore Dollars, Hong Kong dollars, Vietnamese Dong, Australian dollars, New Zealand dollars, and US dollars. I need to have the bank accounts in place, as well as a card potentially. But I need to have these as options. Otherwise, we're just another trading platform."
Regulation is coming across many key markets
Carr is firm on his stance on regulation, "We want to be regulated. And we want to have the regulatory oversight in each country, both from a crypto perspective, but also for local banking."
Although he notes that some of the biggest crypto trading countries are those where crypto is considered illegal and unregulated, Carr will not go there and is focused on maintaining TAP as the trusted platform.
He believes that the unregulated crypto market is all going to change. He does everything by the book and the companies that provide services because they've got no regulation will have to rethink how they operate and are now forced to start looking at regulation. Whereas, he had seen it coming and even more so when Brexit happened. 
"I wanted to be in the front of the queue. I didn't want to be two years later when you've got 150 people applying for an EU license. I wanted to go through that process as quickly as possible. And I wanted to I didn't want to tap to be in that same boat on DLT on crypto because we know it's going to come and everybody is forced to have a license that's ongoing."
"TAP didn't need to be regulated. We chose to be regulated, for a number of reasons. But the primary reason for me is if I'm going to a service provider, a bank, MasterCard, Visa, one of these people, if I'm regulated, they know that they know that I've gone through the hoops to get the license. And they know how hard it is to get this License. This license is not easy license to get by any means. It takes it took a long time to get the Gibraltar DLT license. So they know that we've gone through the hoops."
As more countries regulate digital assets, including crypto and more individuals seek the ease of use that comes with tapping their way through payments, TAP is well positioned to wade positively through the current market conditions.