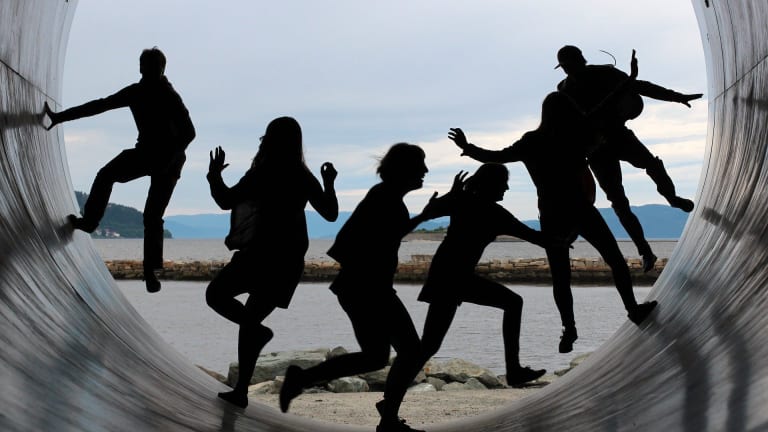 Re-thinking what it means to be social online with SoFi
How will Social Finance (SoFi) impact the Future of Work for GenZ?
Social Finance, aka SoFi, is the newest buzz word in the world of Web3. Combining the global user base of established social media platforms with decentralized finance (DeFi) could become a major force pushing the adoption of blockchain technology into mainstream hubs. 
Already, projects focusing on building communities are popping up with creative ways for the end user to create income streams. Twitter's recent move to allow tipping in fiat currency for verified Twitter accounts could easily expand to crypto currency and unleash a new ear of DeFi via SoFi for social media platforms to reward their users.
Putting power in the hands of the creators
Sitting down with the co-founders of Lemonade Social, a social platform that allows users to bring events, NFTs and all things Web3 to their communities was a breathe of fresh air, renewing my interest in social media. Jakob Seeger, Co-founder of Lemonade believes that everyone can build a lemonade stand online. He explains that "taking the old, sturdy concept of the lemonade stand that provided a means of pocket money for many across the world and giving creators a home in the world of Web3 is crucial for the future of socializing online." 
Lemonade Social began as an IRL experience platform with musicians playing pop up gigs across Barcelona. During Corona the platform pivoted to virtual social experiences around the world to keep empowering creators and brands. Today it has raised 1.6M dollars and is partnering with major brands to build a SoFi hub for virtual creators.
The average user spends 52 minutes per day on TikTok, according to the most recent data, not counting the time users spend to produce a funny, engaging, creative piece of content for their followers. Lemonade lets artists and audiences monetize that time through ticket sales, donations, integrated e-commerce, NFTs and much more.
It is easy to see channels like TikTok become all-consuming. How can these platforms encourage more usage and engagement when those users need to be elsewhere to earn a living? Simple, they make the platform itself a way to create a basic minimum wage. Now without even realizing it, SoFi is offering a means to a universal basic income, That's also the goal of Lemonade, to help everyone who works 40 hours a week make a living
It is common practice in the Web3 space to take the features of popular products in Web2 and make them explode or implode if the developer is on a mission to reverse a trend.
In the case of Lemonade Social, they began noticing the need to remain social during the first covid lockdown. The founders were based in Barcelona and found themselves hosting mini music sessions and festivals in apartments across the town to empower creators, like a decentralized Sofar sounds where hosts and creators directly get paid and own their own data. All events were unique, words spread fast within the creator community and 5 months later there were 50+ Lemonade stands across 5 different countries hosting dinner nights, intimate concerts, live art shows, fundraisers, fashion shows and much more.. A place where people can come to socialize, interact, attend events, buy NFTs and congregate with their community. Today, there are lemonade stands popping up throughout the world, virtually and offline.
Web3 technology driving a social revolution
Blockchain technology is injecting a new lease of life into what it means to be social online. It provides a way to earn an income, offering transparency when it comes to transactions and work output across social platforms. Many of the newer pIt's early days for Web 3.0 but there are a few projects that are innovating at the convergence of social media, decentralization, and digital assets.The shortcomings of the existing social media platforms are already leading many content creators to try direct subscription-based models of revenue like Substack and OnlyFans where they get direct access to their fans.
Subsocial founder Alex is on a grand mission to give everybody the opportunity to build their own social platform. Founder Alex Simon wants to put the power in the hands of the community leaders. He explains how he believes this will launch new economic paradigms based on social media, "We call it Social Finance - social networking combined with decentralized finance. A social networking platform on the blockchain is totally transparent, meaning you can see the account balances of everyone you interact with."
Imagine a space where you own your data and can control multiple ways of earning revenue as a content creator or community builder. This is core to what the team at Subsocial are building.
The business of being social
The business model for social media companies has long been hailed as a success for the founders but often painful and time consuming for users. Who does the work? Who creates the content? Who keeps communities engaged? Who gathers the user base for these businesses? It was termed user generated content and means that the users of the platforms do a large portion of the heavy lifting when it comes to putting profits in the shareholders pockets. This is a broken business model. With the introduction of SoFi, the whole model is being turned on its head, placing the users at the heart of the community.
Our online social engagements are already commodified but to whose advantage? It is common knowledge that many of the bigger social platforms collect and analyze user data to extract information that will make it easier for brands to push more relevance in your eyeline. Users are aware of the tracking, who doesn't accept cookies really? Yet it isn't the users of these platforms that are benefiting from the collected information. With decentralized, creator focused platforms, the user power shifts and it becomes a choice of whether or not to commodify your social experiences online.
The Lemonade social team are conscious of the effort, time and passion that their users put into their online communities. "From individual buskers to established musicians to long running festivals, we are seeing individuals turn their passion projects into profitable events and enjoy social engagements at the same time. Before now we had to make a choice of whether to pursue our dreams or to get a stable job. We want to make it easier for all creators to stick with their passions".
Competing with the big players
In the centralized world there are social kings and everyone must bow down to these corporate royals; Facebook, Instagram, Twitter, LinkedIn and a handful of others. Facebook alone is estimated to have over 2.89 billion users as of 2021. However, as they grew into powerful giants the vision was lost along the way and communities now scrabble to keep their members and fans in one place as these brands add more and more features, diluting the very core of their being which is to provide the easiest way to be social with like minded people. Death by product overload may be the case. As decentralized platforms like Lemonade Social, Subsocial, Totem Earth and Ice Poker keep it simple, concentrating on the needs of the end users, the migration towards these new sharing Social economies seems natural. The edge that will drive more adoption for mainstream social bunnies is that decentralized platforms offer very transparent financial incentives.
Enabling content creators and social media users to get a fair slice of the pie is now achievable, providing a new incentive for people to transition from centralized to decentralized platforms. Fair slice also in terms of "Lemon Tokens" which means everyone being active on Lemonade will get incentivised and in the long term will be an owner/stakeholder of the platform to even have decision making rights as the goal is to become a decentralized autonomous organization (DAO).