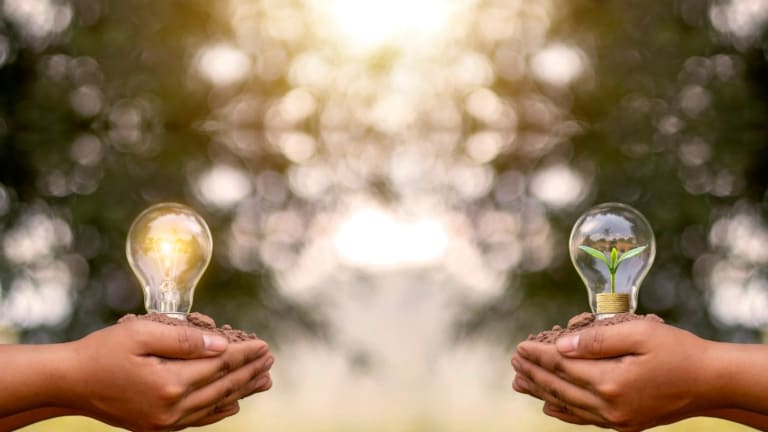 Adopting DeFi to finance future energy sources
Using Decentralized Finance to provide easier access to capital for renewable energy projects.
How can companies and governments adopt decentralized finance to finance energy sources of the future?
Alternative supplies of energy don't come cheap or fast without significant inputs from both governments and private entities. Our overreliance on fossil fuels has left the public exposed to rising energy costs that seem to be always trending upwards.
As the world scrambles to find new sources of energy, renewable energy solutions are waiting in the wings to be discovered and utilized. Yes, this is something that environmentalists have been shouting about for years; yes, it is recognized that the global atmosphere is heating up but no, the target to keep global warming below 1.5 degrees celsius is not going to be met under the current conditions.
Now is the ideal time to assess how ESG initiatives, sustainable development of infrastructure and adopting impact investing into mainstream funds may help us to evade the energy crisis at large.
Funding sustainable infrastructure projects
Taking ESG factors into account when making greener investment decisions isn't the same as actually funding the development of truly sustainable infrastructure and projects that will have a long-term impact on our carbon footprint. So how can investors evaluate where their funds are going and how they are being used? This is where blockchain technology plays a key role. The transparency offered by using a blockchain to manage funds for sustainable enterprises and projects is unparalleled.
Sitting down with Alberto Dalla Rosa from Avapa Energy, it became clear that a greener future has potential but needs to be carefully managed. Dalla Rosa has spent 11 years working in Tokyo and Japan advising the 16 GW+ utility conglomerate J-Powers in the deregulated electricity generation sectors worldwide. Now he is turning his attention and knowledge of the industry to support sustainable investment in renewable energy projects across Europe. "I could see that the sector was growing quite fast in Europe, particularly in Italy when I was based in Japan."
Dalla Rosa wanted to participate in the development side of this growth.
"For the smaller projects, the Due Diligence required can be unbearable to developers and too cumbersome for the banking system. This is where decentralized finance could have a valuable role to play."
"The cost of accessing, dealing with banks or institutional financial side execution lenders is too high for the size of the project. And also the smaller projects are under the radar screen of institutions because banks are the internal costs for a bank to examine a project. So the transaction cost is too high for us as a developer, slash investor, but also for the bank. The banks are not interested in one single megawatt project."
Accessing capital through DeFi
To tackle this accessibility issue Avapa has partnered with Silta Finance – a project which will provide credit assessments and on-chain collateral to enable impactful infrastructure developers to access liquidity in DeFi. Introducing DeFi to impact investors isn't difficult, it is the long-term gains that are hard to explain as more and more individuals have become familiar with high, short-term returns in the world of digital assets. The projects that are building long-term solutions don't always get recognition attributed to short-term gains that have dominated the crypto landscape. However, these sustainable-focused projects are offering the most robust use cases for blockchain technology and demonstrate the true value of decentralized finance.
Many large funds and institutions believe that they are seriously investing in ESG where it matters, but little is known without the correct means of data analysis. Creating a fake narrative about the level of impact that an investment firm is having is not only short-sighted but could also damage the fund's long-term reputation as more transparency is built into the processes used to track these funds. In truth, the access to smaller sustainable projects is limited as the due diligence is both rigorous and time-consuming for the banks that do not have the resources to allocate to these types of projects. Decentralized finance is offering a helping hand in the form of structured DeFi loans that act as an alternative means of raising capital to ensure that a sustainable project is properly financed as well as being a viable investment opportunity.
"Silta is pioneering a way to enable DeFi to finance impact projects. Avapa's portfolio of renewable energy projects ties in well with the ambitions of Silta Finance to drive impact finance where it's needed most," says Ben Sheppard, co-founder of Silta Finance.
Sheppard believes that the future of impact investing is bountiful as long as it is directed towards the projects that require capital and can make a long-term impact, "We are seeing opportunities everywhere we go. Providing access to capital in an efficient way allows projects the room to breathe, to get started and to carry out the work needed to complete these essential infrastructure projects that are going to help us achieve those gigantic environmental goals."
Facilitating new lines of credit across multiple DeFi protocols will help projects to borrow the finance they need when they need it. This also ensures that the right projects are supported. The ESG component of projects isn't prioritized by lenders in the world of traditional finance where projects are required to jump through endless loops to access the credit needed to even begin working with stakeholders on the grounds.
Conclusion
Enormous inputs from both the government and the private sector are required to tackle the deteriorating climate situation paired with the rising energy costs and the pressure on the costs of living. It is already recognized that a relationship-based approach to funding a sustainable future is needed if the EU's objective to address the 2050 climate neutrality goals is going to be achievable. Every member of the European Union has now endorsed this target but how will they make it a reality? In addition to the broader public goals, the private sector is being asked to innovate rapidly to support the broader vision for a greener future.